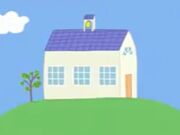 The Playgroup is the playgroup where Peppa Pig and her friends attend.
In Peppa's adventures, the playgroup closes near the end of the show, and is moved to the users mansion where Sonicthehedgehog223's kids, Gronic, Blonic, and Jonic teach the children, which is also the case in Peppa's Adventures: Next Generation.
In SamuelSonic's original episodes, the playgroup got destroyed due to a car crash by Daddy Pig and it had to be rebuilt
In Cursed Peppa, the playgroup is pretty much the same, but is referred to as "Pwaygwouph".
In Peppa Pig: rise of the apocalypse, the playgroup was destroyed due the unknown monster attack it. It was later revealed that Mechagodzilla destroyed it.
In Some Wandom Noob's Fanon, it ends in July and picks back up in October.
Students
Current
Former
StoriesOfSodorGuy's fanon
Current
Former
Teachers
Madame Gazelle (class teacher, all fanons expect Pigpa Pig)
Mr. Pony (playgroup coach)

Mrs. Mouse

(Chef)
Mr. Badger (Janitor/Custodian Worker)

Mrs. Caribou

(Chef Assistant)
Mrs Hamster (class teacher, in Pigpa Pig)
Trivia
Peppa didn't think George was ready for playgroup, though it was presumably Peppa's first day of playgroup, too.
It also serves as a ballet school, as revealed in the episode " Ballet Lesson ".
It opened up in 1923 as The Great Playgroup of Pork. It closed in 2017 as The Peppatown Playgroup and replaced as Golden Statue Hotel. It later got demolished and renovated bigger.
It is sometimes referred to as a school.
In Real Life version is Little Busy Bodies Pre School CIC
Is too called Peppatown Preschool or Kindergarten
In Pigpa Pig, Madam Gazelle retired from the playgroup in the episode Teach-tirement
Gallery