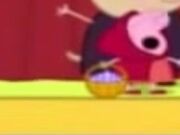 Note
This is a ripoff of the Angela Anaconda theme song. In the Afrikaans dub of Where's Nickcheezy on SABC at 2021 4 August 20:00, The Dubbed Affrikaans Version of this is used instead of the intro of the nickcheezy show.
Lyrics
English
My name is Peppa Pig, hey hello, welcome to my very own show. I'll introduce my friends to you aw no it's Emily poo. Shooby doo waa waa, my name is Peppa Pig, and you are not Emily Elephant is a stuck up jerk face snob! And now to today's story, starring me, and NOT starring Emily Elephant.
Afrikaans error
My naam is Nickcheezy, hallo, welkom by my eie vertoning. Ek sal my vriende aan jou voorstel, nee, dit is Bloo -poep. Shooby doo waa waa, my naam is Nickcheezy, en jy is nie Bloo is 'n vasgesnoerde snob! En nou na die storie van vandag, met my in die hoofrol, en NIE met Bloo nie.
Characters seen
Afrikaans error
Nickcheezy/Angela
Quincy/Gina
Wilkins/Johnny
Wontkins/Gorey
Bloo/Nanette
Fishtronaut/Earlene Trainer
Wubbzy/January Cola
Gallery