Peppa's adventures is a cartoon written by HannelSam, Ozarcusmapseae, MatthewSmarter, Oreo-And-Eeyore, Willdawg14, Sonicthehedgehog223, MrsWhatever40 and The Writer. On February 11th 2018, the show was renewed for a second season.
Episodes
Season 1 (January-May 2018)
Season 2 (May 2018-January/February 2019)
"The Apocalypse" - A zombie apocalypse is spreading, and all the users (and the Pig family) have to do something. Oreo-And-Eeyore later finds plant seeds that can kill the zombies.
"The Hacker" - A stick figure named Caden hacks ROBLOX players, but STH223 and Quongus are not hacked and try to stop him.
"Alton Island" - Oreo-And-Eeyore discovers an island in the UK. Air Luftai, Agent Oblivion, Miles Kelman, and the other Alton Islanders are planning to take over Peppatown. The users have to stop them.
"The Supportive Bikers" - A savage group of bikers arrive in Peppatown and begin killing all the supporting characters. It's up to the main users and children to stop them.
"The Breaking Point" - Quongus plays a ROBLOX game called "The Breaking Point", and he invites everyone to play it.
"The Shooting" - When Jared Fogle and his aides are killed in a shooting, the parents decide to improve their kids safety, and obviously get carried away.
"Microscopic Me" - Sonic, Quongus, and Caden are shrunk to the size of bees.
"Time Space" - Peppa and her friends somehow acquire a time machine and travel to the future and realize that the future is messed up.
"A Flower in a Pizza Place" - The main users work at the Peppatown Pizza Place. They are so bad, the place is torn down and replaced with Dog's Pizza.
"Sonicthehedgehog223's Birthday Bash" - It's Sonic's birthday and Peppa and the other users go to Cheesey's Pizza Palace.
"The Thrilling Ride" - Peppa and the users go on a very incredible roller coaster and Willdawg14 is scared of heights.
"Top KEK" - A Peppa Pig clip becomes viral. Everyone in Peppatown celebrate at OAE's movie theater.
"Sonic is in Trouble Now" - With the help of MatthewSmarter's cloning machine, Willdawg14 clones himself and goes after Sonicthehedgehog223.
"Sub-way: Subscribe Fresh, Eat Fresh" - Sonicthehedgehog223 goes to great lengths to improve the popularity of his YouTube channel.
"Ding, Dong, Ping, Pong!" - Two of Caden's childhood friends, Ada and Logan, come to stay in Peppatown. Peppa makes friends with Ada, while the town uses Logan for suicide prevention campaigns and rat extermination.
"A Peppisode" - Peppa and her friends go on their very own adventure. Meanwhile, the users try to convince Sonicthehedgehog223 that slingshotting himself and a cutout of The Flash into each other won't open a portal to an alternate dimension.
"The Ride to Mars" - Willdawg14 is teleported to Mars. Meanwhile, Peppa and friends spend the day at the park.
"Battles to be Won" - The users try to save Willdawg14. (User POV of "The Ride To Mars")
"Success!" - Peppa and the users split themselves into teams for a game.
"User Tryouts" - The users hold tryouts for a new user.
"Liopleurodon" - Willdawg14 hunts a legendary monster, but ends up falling in love with it, and decides to keep it safe from the townsfolk, who want it killed.
"In The Cave" - Peppa searches in a cave in an attempt to find gold and diamonds.
"Peppa Meets Custard" - Peppa meets a new friend in university named Custard The Cat.
"Minecraft and PA Don't Mix" - Peppa buys a copy of Minecraft, which causes havoc all around town.
"Town of Peppa" - The users and Peppa play Town of Salem.
"Bring Your Child To Work Day" - The grown ups bring their children to work.
"Rock & Users" - STH223 founds a band, and he calls it Users of Rage.
"Germophobism" - Willdawg14 is punished for being a slob.
"The Vacation Condo" - Peppa and her family ditch the users for a vacation, but what they don't know is that George and the kids actually made the place. Meanwhile, the users are furious at the Pigs for ditching them.
"Palace of the Cloudens" - A new user comes to town and builds a giant tower of evil and plots to take over the world, and only the users can stop him.
"Help Wanted"- OAE gets a job at Pig-fil-A.
"Black Friday" - Peppatown prepares for Black Friday, when the mall gives discounts and the whole town fights for the best sales on their favourite items. Peppa and her friends prepare for the violent shopping spree alongside the users. Who will come out victorious?
"Stale" - The users try to put an end to stale memes.
"New Neighbor" - When a human family comes to Peppatown, Peppa and the users spy on them to see what they are up to. Willdawg14 gains a crush on the teenage daughter and keeps hearing a song when he's around her.
"Makeup & Beauty Shop" - A new shop opens in Peppatown. Peppa, MrsWhatever40 and Eduarda2384 go there to buy makeup and get facials done.
"Unstable Series" - The users find out that Ozer has left the PPFW, causing the series to become unstable for the rest of its runtime.
"Pepsi Pig"- Peppa becomes addicted to Pepsi. Willdawg14 and Sonicthehedgehog223 begin selling it to children and get arrested.
"Longest Day" - Willdawg14 has to keep Ayyiya and Sonicthehedgehog223 from escaping a room while Peppa goes on an adventure to find a package.
"Edmond Strikes" - Edmond returns to Peppaland, and drives the heck out of Alex.
"Last Day of Summer" - Peppa must return to university for term 3. After she leaves for 3 months, the town realizes that without her, the world can't function properly.
"Robbie and Jase" - Rebecca moves back into town after a scholarship at the island of iSally. She is distraught to learn that Willdawg14 and Sonicthehedgehog223 are smuggling carrots because Willdawg14 believes carrots are his distant cousins.
"Tobias the Burgular" - When Chris, Matthew, Trevor, and Tobias visit Peppa, they are falsely accused of robbing a bank.
"Muddy Puddle Drought" - When the town begins using muddy puddles as a resource, they all disappear. Peppa and the users go looking for them.
"The Return of Ozar" - Ozarcusmapseae returns to PPFW.
"Let her R.I.P." - After being abused, Ozarcusmapseae boycotts his healing services. Afterwards, Granny Pig dies of Spinal Combustion.
"UFO Unite" - Aliens kidnap the cast and replace them with other aliens. OAE is not kidnapped, the aliens try to attack his house. (MORE SEEN IN PAGE) (Season finale)
Season 3 (October 2018)
(Note: This season has an ongoing storyline that lasts the entire season)
Season 4 (Janaury 2019-March 2019)
Season 5 (April 2019-June 2019)
Season 6
(Note: Like Season 3, this season has a continuing storyline)
Season 7
If in green, the episode aired on Disney XD"s Randomation Animation block before it aired in Peppaland.
Season 8
| | |
| --- | --- |
| | OMG FORTNITE!!!1!1!1!1! |
"North Park" - Willdawg14 begins having strange dreams again. Sonicthehedgehog223 breaks out his detective kit to figure out why Will has all these crazy dreams.
"Reality" - The users are sent to a universe where everything looks weird.
"Man's Worst Enemy" - Candy's family tries to ban dogs from Peppaland.
"Mad, Mad, Animals" - The citizens of Peppatown are furious when they tune in to watch Peppa Pig but get an MMA fight instead.
"Brace Yourself" - Willdawg14 has to wear a back brace, and does not enjoy it at all.
"Hoes and Blows" - When Granny Pig asks the users to mow her and Grandpa Pig's lawn, they get into an argument over which gardening tool is the best, and it escalates into a war.
"Ocean's 7" - The users rob a bank and Peppa gets punished for it.
"Mission: Possible" - Willdawg14 joins a gang of criminals after he fears the other users are neglecting him.
"Breaking Fads" - Peppa becomes an internet celebrity after starting a meme.
"Invisible" - Sonicthehedgehog223 becomes so fast the human eye cannot see him. He uses this to his advantage and makes everybody else miserable.
"Don't Look Down" - Willdawg14 and MatthewSmarter get jobs as circus performers.
"Strangest Things" - Supernatural activity occurs around Peppatown.
"Canon Fire" - The users visit the Peppa Pig canon universe and accidentally destroy it.
"Out of the Picture" - Willdawg14 discovers a family photo of the Pig family with Peppa cut out. He then starts a death hoax about it.
"MaxMooseMillianMus" - Max Moose (who has recovered from his gunshot injury) becomes a popular Fortnite Youtuber, and the users are suddenly flooded with requests to bring him onto User News.
"The Problem With A Shoe" - Sonicthehedgehog223's new running shoes begin to ruin his life, which leads him to think they're cursed.
"Integrity Farms" - Sonicthehedgehog223 gets left behind when the users go on a trip to a farm and loses his integrity as a result.
"Pottery Craziness" - When pottery becomes legal in Peppatown, the users become addicted to it and quickly get out of control.
"Fathoms and Dimorphons" - The two most notorious criminals in the world break out of Peppatown Prision and rope the children into helping them.
"120 Days of So Dumb" - The users all become unbelievably stupid, and the children try to jog their memories.
"The Cleanup Crew" - When Peppa forces the users into doing more chores, they decide to hire a cleanup crew to do the work for them, but they turn out to be Catholic priests who want to molest them.
"Peppa-lone" - When Peppa dreams about being the only resident in Peppatown, she decides to try and find the others.
"Taxi Crasher" - The users trick Peppa into getting a job as a taxi driver so they can afford a new PC.
"A Few Stupid Men" - Willdawg14's lawyer quits after he gets into way too much mischief and takes the job as Sonic and Peppa's lawyer, leading them to believe that they can commit any crime worth being sued for and they won't go to jail.
Season 9
(Note: Like Seasons 3 and 6, this season has a continuing storyline- or at least closely-related episodes)
Season 10
"Brass n' Grass" - The children attend music classes so Peppa's university doesn't shut down (which they are actively against). Meanwhile, the users do everything in their power to make sure the university shuts down.
"Welcome Back, Writer" - After being presumed to have been forgotten, The Writer returns to Peppatown and people start disappearing for no reason. Pretty soon, the other users think that The Writer is the one behind this, but it's not him. It's eventually revealed that a criminal mastemind known as Angela Anaconda is the one who is behind it.
"Our Adventures" - The users are transported to a foreign country where nobody apparently knows how to share.
 
4+5. "Detective Sonic" -
 
6. "Ozar the Shark" - Ozarcusmapseae wants to return to his shark friends underwater, and the other users fail to convince him to stay.
7. "MrsWhatever40's Revenge" - When a new villian named Jason Williams tries to kill the users, MrsWhatever40 tries her best to kill him.
8. "Sonic is Enceinte" - Sonicthehedgehog223 ends up in an unfortunate accident that results in his back getting pregnant.
9. " Warbles Airlines" - Willdawg14 is concerned about the brand new airport in Peppatown.
10. "The Dam Scam" - The users figure out o how to make a profit during a drought. Meanwhile, Alex goes undercover to figure out what happened to the Qralo River.
11. "The Possesion Of HannelSam" - HannelSam becomes possessed by a demon, and the other users decide to stop it.
12. "Planet of the Grapes" - Peppa notices all of the monkeys are turning into grapes by using high technology. The users also try to prevent Sonic from eating everything so he doesn't end up like them.
13. "Mayan Monkey's Misadventure" - Mayan Monkey goes through great lengths to visit Peppa and HannelSam.
14. "Winsty Wartruble" - Peppa, Suzy, George and MrsWhatever40 travel to Earland to rescue Winsty Wartruble from a bird trap.
15. "Brothers In Farms" - Willdawg14 tries to help Sonicthehedgehog223 get over his fear of farms after being left at one in "Integrity Farms".
16. "King of the Jungle" - King Lion, who is the king of the Amazon rain forest, has Sonic be the king until he gets back from his trip.
17. "Buddha Bubble" - Sonicthehedgehog223 is worried that he will catch the other users colds, so he isolates himself in a ginormous bubble that he can roll around in.
18. "No This" - Willdawg14 discovers the ultimate comeback.
19. "Megalodon Mystery" - Willdawg14 discovers a "megalodon," despite Oreo-And-Eeyore warning him it's counterfeit.
20. "Jurassic Prick" - The users and the kids decide to stay in Grampy Rabbit's Dinosaur Park overnight, but discover that the dinosaurs come to life and get into very adult situations, while also trying to eat them, and they must now escape. Meanwhile, Sonicthehedgehog223 comes up with a brilliant plan to sell the park and become rich.
21. "The Worst Showman" - The Mummies of Peppatown force the users to put on a play, and the kids team up with the users to cancel it. Meanwhile, Sonicthehedgehog223 tries to burn the building down.
22. "Underwater Pressure" - Sonicthehedgehog223 records a fight between a Giant Squid and a Sperm Whale and posts it online, causing everybody else to try diving beneath the ocean.
23. "Slice of Death" - Sonicthehedgehog223 discovers the true power of the fandom when he is forced into marrying MrsWhatever40. Meanwhile, Prince Mason returns to Peppatown, and begins to throw a violent temper tantrum, so the other users attempt to fight him off while Sonic and MrsWhatever40 struggle to complete the wedding preparations. Also, Willdawg14 begins to wonder if he's really a Peppa Pig brony or just a stupid furry.
24. "The Aristo-cats" - Willdawg14 is banned from Peppatown for telling an extremely long, complicated, and otherwise inappropriate joke. Meanwhile, Candy Cat and her family misunderstand the joke and get really pissed off.
25. "Kung Fu Hedgehog" - After Sonicthehedgehog223 gets beat up by Richard Rabbit at playgroup, he decides to practice kung fu, and he forces the other users to come with him to a training academy along with other animals. While Sonic is trying to train, Willdawg14 gets in trouble for apparently "molesting" a snake student.
26. "No More Show" - Peppa starts a protest when her favorite series is threatened to be canceled. Meanwhile, Willdawg14 realizes that if Peppa's show gets canceled, then PA will get canceled.
Season 11
Season 12
(Note: Like Seasons 3, 6, and 9, this season has a continuing storyline)
Season 13
Season 14
Specials
Online
"A Trip To The Past & Future" - A time machine takes the gang into the past and future.
"Lucky Charm" - On St. Patrick's day, Peppa needs to find a good luck charm before the day ends, or else she will be recognized as the most unlucky person in the world.
"Prank War" - On April Fools Day, a simple prank by MrsWhatever40 and Oreo-And-Eeyore turns into a war.
"Canada Day" - Peppa and her friends celebrate Canada Day, but they do not celebrate it in Peppaland or else they have to travel to Canada
"The Egg-cellent Easter Egg Hunt" - Mayor Lion hosts an Easter egg hunt.
"Matthew's Birthday" - Today is Matthew's birthday.
"Happy St. John" - The Midsummer comes to Peppatown.
"PA Musical Countdown" - The top ten songs from the show play. (Vote: http://peppafanon.wikia.com/wiki/User_blog:Sonicthehedgehog223/Vote_bracket)
"Boo! Let's Scare Sonic" - It's Halloween and Willdawg14 tries to scare Sonicthehedgehog223 to earn the Scaring A Friend achievement.
"No Thanks-giving" - Sonic forces the users not from America to celebrate Thanksgiving.
"Merry Cracktastic Christmas!" - When Willdawg14 creates a new festive drink that everybody hates, he dumps it down the sink, and it turns Peppatown into one big, cracktastic riot that only Will and the kids can stop.
"Peppa's Trip To Bristol" - Peppa, George, Willdawg14, MatthewSmarter and MrsWhatever40 go on holiday to Bristol, the capital of United Regions. They go to see the king and have lots of fun.
"The Polaroid Express" - Sonicthehedgehog223 begins taking "Christmas drugs" called polaroids and has a dream one night where he is forced to ride a train called The Polaroid Express.
Part of Show
"Detective Sonic" - When Sonicthehedgehog223 suddenly notices that Willdawg14 is missing (when he actually has been gone for three days) he crosses over into the real world and tries to get help from his old friends in order to find him.
Movie
Main article: The Second Coming
On May 8, 2018 at 7:14pm UTC, Pennzoil on Oinker confirmed six and seventh seasons for Peppa's adventures, scheduled to premiere between late-2019 to an unknown date in 2020. A few crew members initally said that season 7 would be the show's last, like season 4 was initally intended to be. The season 6 roster was revealed the following day, and the rumors of the show ending were proven false, with a fully CGI special confirmed. On July 22, 2018, the special was turned into an official, theatrical movie entitled "The Second Coming" slated for 2020. A tie in game is also planned.
DVD Releases
In February 2018, it was announced that there would be DVD releases of Peppa's adventures.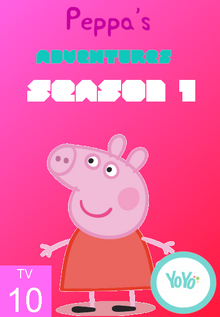 Peppa's Computer Adventures - a collection of Peppa's adventures episodes that feature computers.
Peppa and Sonicthehedgehog223 - a collection of Peppa's adventures episodes that feature Peppa and Sonicthehedgehog223.
Peppa's adventures: The Entire First Season- a collection of Peppa's Adventures episodes that was in Season 1.
Peppa's Spooky Stories - A collection of Peppa's adventures episodes that feature spooky stories.
Peppa's adventures: The Best of Oreo-And-Eeyore - A collection of Peppa's Adventures episodes that feature Oreo-And-Eeyore 
Characters
Regular Characters
Peppa Pig - A 19 year old girl who is having time off from university. She is voiced by Jenny Astley.
George Pig - A 14 year old who thinks high school sucks. He is voiced by Jacob Hopkins.
Alex Pig - A 10 year old who has (somehow) already graduated from university.
Mummy Pig - She likes computers.
Daddy Pig - He goes to work and has a job as an architect.
Granny and Grandpa Pig - They are old.
Jase Pig - She needs to be potty trained and she is 5 yrs old. Voiced by Alice May.
Selmo Pig - He also needs to be potty trained and he is 5 yrs old. Voiced by Oliver May.
Ayyiya Pig - She is Peppa and George's one month old baby sister.
Custard The Cat - She is Peppa's new friend in college.
Matthew Pig - A 22 years old who is Peppa's good older brother and moved out to RIOM, Freddytown, after marrying Annie Elephant.
Tobias Pig - Peppa's 23 year old brother who carpools frequently with his brothers Trevor and Chris. He is lazy and goofy. He married Mary Dog and also he lives in Greathills.
Chris Pig - Peppa's 20 year old friend who carpools with Tobias and Trevor. He is usually the quieter one. He married Layla Pony.
Trevor Pig - Peppa's 25 year old brother who carpools all the time with Tobias and Chris. He is often pushy or assertive. He married Jane Sheep and also he lives in Freddytown.
Robert Rohhole - Peppa's 20 year old friend who attends her university.
Matthew Miller - A new resident in Peppatown that first appeared in "Matthew and Bryalon". He is autistic and nonverbal and spits on people alot and he also have seizures according to his info identity card.
Braylon Smith - Another new resident in Peppatown that first appeared in the same episode that Matthew did. He is a character and talks about stuff a lot and he is autistic.
Prince Mason- An annoying prince that keeps insulting the users and bragging to them. He was killed at the end of the episode; when The Queen made Willdawg14 her prince (much to everyone's confusion) he yelled "Yeah, motherfuckers!" and beat Prince Mason to death, killing him.
Danieltons - A seven-year-old that has spent his entire life in a basement a likes tormenting people for no reason.
The Queen- The Queen appears in " The Prince " to decide who should become the prince. In the end, Willdawg14 becomes the prince, after which he brutally murders Prince Mason.
Rose Reindeer - A 13 year old girl who has an interest in George. She debuted in George's Follower.
Jared Fogle- Former spokesman for Subway who now chases, stalks, and molests kids for a living. He is a recurring character on the show. He first appears in "A Funny Kind Of AIDS".
Caden Bute - A 13 year-old hacker who befriends STH223 and Mateusz11113.
Ava Ping - A good player at Pong. Attends the same school as the users do.
Logan Pong - A loser at Pong. He is younger than Ada and has a crush on MrsWhatever40.
Mr. Giraffe - The evil, racist police chief.
Gronic, Blonic, and Jonic- Sonicthehedgehog223's children that he gives birth to in the episode "Sonic is Enceinte" when his back becomes pregnant. (They are a reference to Donald Duck's nephews, Huey, Dewey, and Louie.)
The Three Dictators- A group of real-life dead dictators and fascists that try to be evil, but frequently end up slapping, bonking, and hitting each other in a style similar to that of the popular slapstick comedy group The Three Stooges. They consist of Adolf Hitler (Moe), Joseph Stalin (Larry), and Attila the Hun (Curly).
Autumn Blaze- Willdawg14's current girlfriend, a Chinese creature called a Kirin.
Users
Ozarcusmapsesae - He is the smart user and can heal people and bring them back from the dead. He first appeared in the episode "4369 pages of the PPFW " and is the first user to appear on the show.
HannelSam - She loves cool stuff and is a perfect girl. In season 4, she changed her name to Missrabbitfan now she died and had a new user kwons HannelSam.
Oreo-And-Eeyore - He has no sense in his brain and likes shooting people with dart guns (until peppa goes to the swimming pool)
Mateusz11113 - He is the technological user and can fix broken computers, phones and tablets. Mummy Pig will be happy.
Willdawg14 - He is a human flower who has an Xbox One. He frequently gets into adventures alongside STH223. He first appears in "Peppa goes to the swimming pool".
Sonicthehedgehog223 - He also likes to sit in a corner playing Roblox on his computer pad thingy. Sonic is very indoorsy and lazy. He usually refuses to get off his X360, especially while playing Sonic Generations. When he does go outside, he typically spinballs trees. Unlike the rest, he first appears in The Broken Computer.
MrsWhatever40 - She likes to play with Barbie and Bratz dolls and she also has a Nintendo Switch. She is friends with all of the other users (except Sonicthehedgehog223) and Peppa. She first appears in "The Virus".
The Writer  - He's a decent writer, who can "heal" people.
BenTalkingFan128 - He can fix and make movies, and like MatthewSmarter, is very tech-savy.
Based on
The show is based on the children's novels by James Dwyer.
Original Format
16:9 - 4369 pages of the PPFW, My noisy neighbours, Angelica Pig is here?, Peppa goes to the swimming pool, Peppa's New Friend, Oreo-and-Eeyore.exe is not responding, George hates High School, A Funny Kind of AIDS, The Broken Computer, Peppa explores the PPFW, BOY!, Dinner Disaster, Ayyiya's First Step, The Prince, 24 Hours To Live, The Stolen Computer, Carthion Canyon, The Legend of MysterioX, The Trip to Brazil, The Pumper Frogs come round to eat food, TBA
4:3 - Dawn of the Users, Jase and Selmo do potty training, The Virus, Bootlegs, Chores, Chores Galore, The Camper Van, The Not-so Fun Run, The Skits, TBA
Locations
Songs
Real Songs
"All Star" by Smash Mouth (sung by Sonicthehedgehog223) - "BOY!"
"Working for The Weekend" by Loverboy - "Chores, Chores Galore"
"Be the Best You" by Joe Rogan - "Carthion Canyon (episode)"
"Captain Underpants" theme (Brass, instrumental)" by Al Yankovic - "The Pumper Frogs come round to eat food"
"Stamp on the Ground" by Italobrothers - "The Lottery"
"Finesse" by Bruno Mars - "The Oldener Days"
"The Flame" by Cheap Trick - "Daddy's Home"
"You Spin Me Right Round" by Dead or Alive (sung by Quongus, STH223, and Caden) - "Microscopic Me"
"Hold My Hand" by Hootie and the Blowfish (original and sung by Willdawg14) - "New Neighbour"
"I Want To Know What Love Is" by Foreigner - "Ferdi-Dummies"
"Walking On Sunshine" by Katrina and the Waves- "Pottery Craziness"
"Freedom" by Pitbull - "Pottery Craziness" and "How Do I Reeeeeach These Peeeeegs?"
"Hungry Eyes" by Eric Carmen - "Mister Sonic Bangs a Hammer"
"Simple" by Florida Georgia Line - "Playgroup Problems"
"The Assumptions Song" by Arrogant Worms - "Playgroup Problems"
"Zero" by Imagine Dragons - "Sonic Breaks The Internet"
"You're My Best Friend" by Queen - "Sonic x Wilkins Coffee"
"Can Can Music" by Offenbach- "Sonic's Can Can Con Condos"
"Today" by Brad Paisley- "Sonic's Can Can Con Condos"
Custom Songs
Toy Merchandises
Character Figures
Peppa - Comes with her college bag and a telescope.
Sonicthehedgehog223 - Comes with his treehouse and his super sonic speed.
Willdawg14 - Comes with his watering can.
MrsWhatever40 - Comes with her dolls and her doll factory.
Playsets
Sonicthehedgehog223's Treehouse - Comes with Sonic himself.
MrsWhatever40's Barbie Doll Factory - Comes with MrsWhatever40 and some dolls.
Other Toys
The Car - Comes with Peppa and her family.
List of games
On February 18, 2018, a video game based on the series was confirmed. It will be released on February 23, 2018, the same day as the episode "The Pumper Frogs come round to eat food". Many of the characters, including the users, Prince Mason, Jared Fogle, and The Queen will appear. However, it was confirmed that the game, along with the episode, had been delayed to March 1, 2018 on February 22, 2018, one day before the episode was supposed to air. However, it was announced that the episode had been further delayed to March 9, 2018.
You have to guide one of the characters OAE after he found a Hershey's chocolate bar but can't open it. You must get help from other PA characters like Peppa and STH223.
You can either play as Peppa or Sonicthehedgehog223 and you have to try to break out of jail without the police noticing.
In this game, you play as Willdawg14, who is escaping the Pumper Frog Lair. You have to solve brain cramping puzzles. It was released on March 10, 2018.
This game is a collab of characters from other Yo-Yo original series. It will be released on September 19, 2018.
This game is based off the season 2 episode "In The Cave." In this game, you play as Peppa who has to explore 27 different parts of a cave to collect a set number of ores.
Deaths
Deaths are similar to BFDI in terms of deaths. Some deaths are permanent (Eggbert), while others aren't.
"The Shooting" Jared Fogle, Aides ³
"BOY!" (Eggbert) ¹
"The Prince" (Prince Mason) ¹
"The Camper Van" (Bears, wolves, Jared Fogle) π (bears) ² (Jared Fogle)
"The Pumper Frogs come round to eat food" (Pumper Frogs, Mateusz11113) ¹ (PF's) and ² (Mateusz11113)
"Bad Users" (The bad users) ⁴
"Daddy's Home" (Daddy Pig, STH223, Willdawg14) ²
"The Breaking Point" (Sonicthehedgehog223, Willdawg14, Selmo, Alex, Peppa, Jared Fogle, Quongus) ²
Key
¹ means a permanent death.
² means a revived death.
³ means a possible death, recovered.
π means a minor death, unknown.
⁴ means a possible death, unknown if revived or not.
Cast
Jenny Astley as Peppa Pig
Jacob Hopkins as George Pig [Pitched up]
Tex Hammond as Alex Pig
Alice May as Jase Pig
Oliver May as Selmo Pig
Drake Bell as Robert Rohhole
Richard Riddings as Daddy Pig
Frances White as Granny Pig
James Jamson as Sonicthehedgehog223
Willdawg14 as Willdawg14
Matthew Frackowiak as MatthewSmarter
Maria Eduard as Eduarda2384 (S1-S3)/Missrabbitfan (S4)/HannelSam (S5 - present)
Elizabeth Simmons as MrsWhatever40
Spin Off
On February 1, 2018, a spin off titled "George's Adventures" premiered on Animal Toonz. It takes place six years before Peppa's adventures does.
International Releases
Peppaland
Yo-Yo - January 18, 2018 - present
Brazil
Gloob - May 23, 2018 - present
United States
Disney Channel - March 4, 2018 - present
Canada
YTV - March 12, 2018 - May 11, 2018
Teletoon - May 18, 2018 - present
United Kingdom
Disney XD - March 13, 2018 - present
Poland
Nickelodeon - January 24, 2018 - present
Groosatina
GBC - May 4, 2018 - present
France
Discovery Family- January 29, 2018 - present
Russia
Disney Channel - January 26, 2018 - present
Chile
Nicktoons - February 12, 2018 - present
Kenya
Family TV Kenya - May 11, 2018 - present
Australia
Disney XD - January 20, 2018 - March 6, 2018
Disney Channel - March 7, 2018
Japan
NHK - June 6, 2018 - present
Ireland
Universal Kids - July 1, 2018
India
Cartoon Network - July 12, 2018
New Zealand
Discovery Family - July 18, 2018
South Korea
Cartoon Network - July 21, 2018
Israel
Disney XD - July 31, 2018 - present
Spain
Boomerang - August 7, 2018 - present
Thailand
Nickelodeon - August 13, 2018 - present
Mexico
Discovery Family - August 19, 2018 - present
Italy
DeA Kids - September 5, 2018 - present
Czech Republic
Nickelodeon - September 9, 2018 - present
Germany
Disney Channel - September 9, 2018 - November 9, 2018
Nickelodeon - November 9, 2018 - present
China
CCTV-14 - November 12, 2018 - present
Philippines
ABS-CBN - December 1, 2018 - present
United Regions
ToonShake - September 2, 2018 - present
Disney XD - January 30, 2019 - present
Cartoon Network - November 22, 2018 - present
Iceland
Suzylands
Comics
Wiki
Type in Peppa's adventures wiki.
Announcement
There was a Pigtube video made to announce the series on September 2, 2017. This was aired on TV until January 16, 2018. It can be seen on Yo-Yo Play as of May.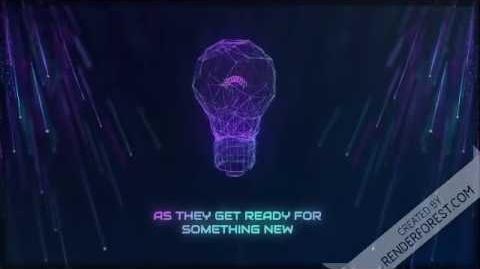 Trivia
For unknown reasons, most of Peppa's childhood friends don't appear.

According to the Yo-Yo Q&A, Suzy got hauled off to school early, Pedro moved to Mexico, and Danny got a job in Freddytown.

The show wasn't originally planned to have songs until "Jammin To Dat Beat" was written.
This show has been confirmed to have at least five seasons.
The show is produced using the animation software Adobe Animate.
The users from the show are brought back to the another show's season 30 episode.
This show is Yo-Yo's most successful show since Kim Possible. It was number 1 on Peppish Kids Programming for January 2018, and also the highest rated animated Sodium series.
Sallyish edits occur every episode. 
Although the show is considered kid-friendly, it has received 14+ ratings due to occasional swearing, stories that may be too overwhelming for kids, and the portrayal of various celebrities such as Jared Fogle and Logan Pong. 

However, Logan Pong isn't an intended reference, as he is a stick figure, like Caden.

Starting with "The Pumper Frogs come round to eat food", episodes air on Disney XD first.
Episodes 43-47 of season 4 use a plotline that is necessary for season 5.
Season 9 noticeably focuses on episodes related to the 2017 video game Cuphead, which has led some fans to refer to it as the "Cuphead Season."
Despite it's popularity, many fans have criticized the show, specifically around late season 4/early season 5. These fans call seasons 5 and 6 "edgy," seasons 7-8 "failed attempts to restore the show," and seasons 9 and 10 "unoriginal."
According to a poll, season 2 is the most popular season, and season 6 is the least popular season.

The order went like this: Season 2 (31%); Season 1 (29%); Season 7 (15%); Season 4 (14%); Season 3 (4%); Season 8 (3%); Season 10 (2%); Season 5 (>1%); Season 9 (<1%); Season 6 (<0.22%)