Charlie is a chipmunk. He is 4.5 years old. He has a purple shirt. He also has glasses.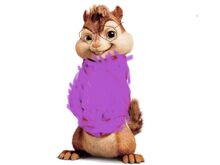 He is a close friend of Peppa. He likes to play Follow the Leader and Hopscotch.
He has his mummy and daddy. He also has a baby sister named Cindy.
He first appears in "Charlie Chipmunk".
Charlie will appear in the episodes below:
Charlie Chipmunk
New Leaf
The Baby Chipmunk
Charlie's Holiday
Cindy's Play Time
The Bike Race
Charlie's Sleepover
Cindy at the Playgroup
Disco
Charlie's Playdate
Naughty Cindy
Charlie's Snow Day
Trivia
In Liopleurodons' fandom, he looks like a fanmade Alvin and The Chipmunks character.