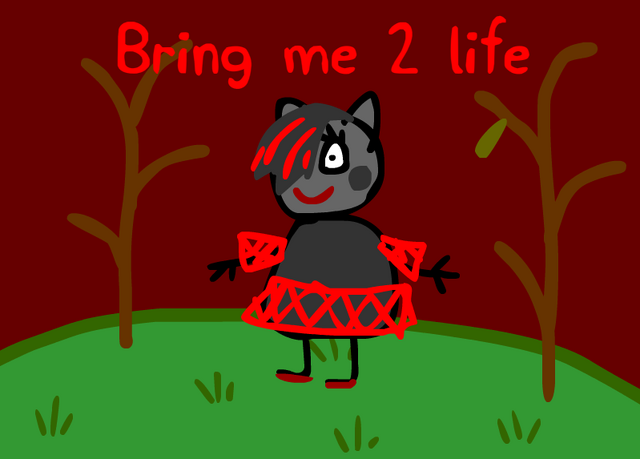 Chapter 1
Hi! My name is Onyx Depr'ession Alzheimer Gothic Gargoyle Madden Cat (I am not related in any way do Joel Madden but I wish I was because hes a major hottie and for all you preps reading this then fudge off!1!) and I am a cat as you could tell and I am 16. Normally I have black fur with red tips and red streaks which looks totally gothis. I have pearceing black onyx eyes (thats how I got my name) and my ears have red tips which reaches the my head. I normally wear lot of cool gothic clothing and I am a satanist. for example, today, I was wearing a black gothic dress with red gothic fishnets, red gothic tattoo sleeves, dark purple chandelier necklace and black combat boots which had red soles because the were from LAUBOUTIN¡. I was feeling depressed so I visited my best friend Peppa Pig's house. (she was 17 now so this makes sense. her brother george was 14.) the weather was dark clouds with thunderstorms that were just like in the movie of Frankenstein's movies (reading books is for preps and poserss!).
Peppa Pig was in her house, moshing to MCR (my favourite band besides good charlote, evanescence.) and slitting her wrists. she was goffik and converted to satanism because her parents died in a car crash and there was blood and gore everywhere like in SAW 5 which is a really goffic movie. She was wearing a white and black monochrome striped dress with blood all over it, a silver necklace with a skull on it, black boots and silver golden chandelier earrings. her goffik brother was wearing black ripped shirt with a picture of a skull on it, black ripped skinny jeans, red bracelets, red converse Vans and red black headphones. He was goffik too because he was influenced by his sister.
Chapter 2
We practiced satanist sings for a while we drew gothic bloody pentagrams on the floor. we did so while moshing to the song 'my immortal' which is the best goffik song ever besides from ';Helena.' then we went outside and we jumped in bloody puddles. (We didn't put on boots because Pepa's parents werent there to tell us what to do.) I was wearing a very gothic black dress with a red outlining, red fishnets and a red under skirt with a red skull necklace. It was a really cool goffik party.we saaw peppa's goffik friends came. including SuzyScarlet Goth, Danny Depression Darkness Dog and som of her other friends. they were all wearing black and red goffick clothing. "hi everyone." I gasped. "hi Onyx." they replied, then we jumped in some bloody puddles and we drank blood and we moshed to MCR for a while. We played it very loudly because it was a cool song. we had red white strobe lights everywhere which was cool.
But then, all of a sudden, i saw a preppy purple old hag come towards our house. she had long brown horns (just like a gazelle) and she was wearing the most preppy flower dress which I could think of. it was...........................................................................................Madame Gazelle!
"turn that gotthifc music off RIGHT NOW!" she yelled at us but we ignored her and kept moshing to it. then she picked up the music player and threw it off the hill. it broke into a million pieces with shining metal everywhere. We were so depressed at that event and told gave Madame Gazel the middle finger. she went away probably to give us all Fs on our GCSE exams because she didn't like us but i didn't care anyway. we were depressed so we went inside peppa's gothic house. it was decorated with skulls and the walls were black and the floor was blood red. there were gothic purple candles everywhere. we asked Peppa for some rasors and she gave us some Rasors and then we slit our wrists because we were so depressed. then we watched a depressing movie called THE ROOM by Tommy Wiseau (isn't he the most gothic guy ever) which was really depressing while we waited for the blood to stop bleeding. it was depressing. "hajimemashita gurl" I said it meant hello in japanese. "konnichiwa everybody" replied Peppa. we started speaking in japanese because it is cool and goffic not like preppy other languages like FRENCH (eww we have to do it at school and it sucks it's so preppy.) we watcched the movie. it was really depressing. we spoke in silence fr the rest of the movie.
Chapter 3
(A.N.D i don't care if it's not an episode!! ever heard of differences! it's a fanfiction that is longer than 5 minutes. so deal with it flamers! it ethan says everything is alloud!)
well it was time to go to the skull (geddit instead of school) because i'm goffik. so we did. our first and only teacher was Madamme Gazelle who was like the most preppy teacher ever and i don't like her. he makes us goffs do too hard work such as ALGEBRA (which is not like a real bra) and gives us detentions for no reason. today, we began with numeracy. i was wearing a black gothic frilly dress with white apron and red slippers. my friend peppa pig was wearing a black dress with red trim and red stripes and it said "666mcr" all over it. anyway, we sat at our gothic black desks which were brown because Madame Gazel made us clean off the black pant which was really prepppy of her to do. we got out out black notebooks which we used for this subject.
"ok class you must do exorcise 1, 2, 3, 4, 5, 6 and 7 and you have half an hour" she said. now u can see why i don't like her. "if you do not do it i will put you in detention at the ned of the day. you can do it than." i hate her so much so i put my middle finger up at her.
"DENTION MISS MADDEN." she yielded. i cringed and so did peppa and suzie and the others. then we did draw some gothic pentargrams in our book and did not do the work. we are so rebellious. we had chemistry next and for dat we also had madam gazel for it and i hated all the school except for my friends suzy and danny a and others.
in dentionn, Miss Gazelle we found out that Miss Gazelle was having an affair. she was talking on her phone and her eyes rolled and she sighed in a really romantic way. it turns out she was having an affair with..................................................................................................................................................................................................................................... Mr. buEllephant!!!!!!!!!!!
Chapter 4 dont be afraid of da darkess
(A.N stop delete my stro!!!! just becuz u dont like it u prepz dosent mean u have to kepe delete it ever 4 second.)
Well atref making dat amazing revelation I decided to to go to hoth toppik wiv my goffik frienz such as SuzyScarlet Goth. I went dere in my dark black car wiv red paint and da licence plate said "666onyx666" i also went dere wiv pepper pig. i wuz wearing a black ripped torn dress made out of silk wiv red fishnets a black beret and i died my fur red. SuzyScarlet Goff was wearing a red blood dress with pink fishnets and black high heeled boots and Peppa Pig was wearing a ripped red dress with red tights red fishnets and red boots becuz today she wuz in da mood for BLOOD. anyway we bought some things at hot topikk that were really goffik such as MCR cds and pastors of MCR and good charlote and other goffik bands (not preppy bands such as avril lagivne!1 ew.)
atref we went out of hott toppik we went to jump inside bloody puddles. they were red and bloody and goffik. of course we didn't put on boots because that's for preps and safety posers. we thought it was fun and goffik but then all of a suddenly a fat old man came to the hill where we were jumping in bloody puddles. it was... DADDY pig!!!
"what are you doing you preps! u now you're supposed to war BOTTS for jumping into puddles!" he shouted in his old meany voice. we ignorded him because we were old enough not to wear bots now. but then he got even angrier and showed us our school reports. they had red Fs all over it but they weren't in goffik blood. we still ignored him. then he started to call Miss Mary Gazelle. i wondered why but then I remembered that she was having a affair with Mr. Elephant so she is promiscous and a cheetah (GEDDIT because we're animals.) so it turns out that basically Miss Gazeellle was having a affair with all the men in the town. I gasped.
(A.N.D seriously did u like it!!1 if not then dont delete it u prep!!!!)
Chatper 5
(A.N.D if u don't like it U DONT HAVE TO REED IT you know.) I was wearing a ripped black dress with blood on it, dark purple fishnets, a red chandelier necklace, dark purple apron, red under skirt and dark purple combat boots. Peppa was wearing a red dress, black skull necklace, dark purple under skirt and red combat boots. SuzyScarletGoff was wearing a ripped dark purple dress with black under skirt, pink fishnets, pink chandelier necklace and black combat boots. "madame gazelle stop cheating on Mr. Ellephant with Daddy Pig!!!" I and Peppa scremed immediantely. We were so atrocioused at the Madame Gazell's disgusting behavior!! she isn't even goffik! then she kept screaming at us in some weird language and weird words such as "putty jetay." We didn't understand not one word of what she was screaming. then.......................................................................................................................................................
"ABRA KEDABRA!!" George shouted. in a goffik noise. he did so at miss gazelle. a green beam came out of the his wand and hit Madame Gazell who died a million times. "HOORAY" we all shouted except for Daddy Pig! "NO Ebondy and George and Pepper how could u be laughing at this!!11 you made my love of my life be DEAD!!" he shouted. "water (geddit water is a symbol of death) you talking about" i said to Dady Pig. "that's enough get out of here right now!!!" Mummy PIg blared at me in her voice. then Peppa and I went out of the house.
"Ppeper I can't believe how preppy ur dad is!!" i said in a gothic voice.
"I know righ! he never lets me do ANYnothing!!" Peppa replied. "he makes me take baffs but i'm almost 18 and i'm grown up enough not to be told or force to do anything!"
"anyway let's go to hoth toppik to buy some goffik music and clothes" I said to change the subjet. we bought some kool goffik clothes. i put them in my wardrobe and I even bought something for george who was pepper's brother. a black gothic ripped shirt with the words "DEATH" on it. "anyway we went back to peppe's home". however, when we got there, there was an nasty suprise awaiting us!! i saw......................................................................................................................................................................................................................................................................................................daMummy Pig throwing out our goffik cucko clok!!!!!
"NO!!!" i shouted. i ripped the clock out of mommy pig's hands. "how dare you" she shouted but i interruptered her by running away. peppa pig also ran away. We ran to da kool goffik park and on the way we saw Madam Gazell. "cheeldren your grades are appalling!" we ignored her in silence. we went back home.
Charter 6 - inkharte
chapter 6 inkharte
(attension everbody i am back ok!!! plese don't delete da page. if u do then u r a prep!!!!11!!)
I was wearing a girly, frilly pink dress with white fishnets, a white apron and pink slippers. I said to myself "Ugh" and was so deprezzed. I put on a goffik ripped black dress with dark purple fishnets and a red skull necklace with a red outlining and dark purple apron with red high heeled boots. after taht incident with da cucko clok so me and Pepper pig and Geroge and Suzy And Emily and Delphine and others we all went to a concert. we bought da content tickets faster than you could say "fangz" (geddit fangz becuz i am goffik.) the concert was for an slipknot concerte!! they were 2 hot 4 me 2 handel. (geddit becuz 4 is a symbol of death in Japanese.) we watched them perform da song "psychosocial" and other songs and we all moshed to da music. everyone in da hall was wearing goffik black clothing and occaassionelly there was someone wearing red clothes. it was da most goffik concert of my life. however, all of a suddenly.......................................................................................................................................................................................................................................................................................da band members pulled off there masks!!!11!! it was MADAM GAZZELLE and da bing bongs!!
"WTF what r you doing in here this is for goffik people only!!!" we all shouted and screamed. everyone in da concert hall screamed at the sight of this evil PREP!!!
"hahaha now you can't listen to your goffik music anymore! and i caught you out of your homes during your CURFEW!!!! she yelled in a menacing voice." we didn't know water she was taking (geddit becuz she was taking bad substances which is bad.) about we had no curfewz we where 2 mature not to have dem. then suddenly... madam gazel called da police!!! there was a siren noise and red and blue lightning. out of the darkess appeared.... MISS RABBIT!!! she was really angrily because miss gazzell had summoned her to a concert.
"what is da problem here" axed Miss Rabbi in a goffik voice and then madam Gazelle replied "these girlsand boys are out of bed during their curfewz!!!".
"oh no that is very bad!!!" Miss Rabbi said. i was very sad becuz we could not longer go to the concert and just as i Miss Rabbit said "madam gazelle how could you do such a thing!!! these children are on their SUMMER HOLIDAYS and how dare you report them to the police and how dare you call the police for noreason! i am going to have to put you into jail for 100 million years!" i and george and peppa and suzy and emily and delphine and selmo and jace and pedro and danny and everyone gasped!!!
then we went back home. it was da most goffik night of our lives!! however are parents were very mad so we runned away to a goffik hotel. they let us stay there for as long as we wanted becuz we were real goffs not like the poser Madamme Gazele and Dady Pig and everone. it was vary nice to sleep in somewhere else for a change... however, when we returned to peppar's home we saw............. da house was on goffik red and black fire with black smoke that was black!
2b (geddit like the pencil) continue.
Chapter 7
however, when we returned to peppar's home we saw............. da house was on goffik red and black fire with black smoke that was black!
i woke up from my dreem. it turns out it was all a dreem and peppar's home was not on fire. i was back in da hotel room. however, when we returned to peppar's home we saw............. da house was on goffik red and black fire with black smoke that was black!
"OMG no what are we going to do now!!!" peppa and george and I shooted angrily.
"there's nothing we can do!!! we are gong to die (geddit cause i'm goffik.)" said daddy and mummy pig. we were very deppressant because peppa's house was burning down and there was nothing we could do about it. it turns out that the house burned down to reveal.............................. a ancient crypt located beneath the house!! there was probably lots of goffik and dark secretes hidden within the crypt. we were all very interested and went like "ooh" like they go in most pepper pig cartoons. it was very interesting for me.
"I went down the stairs and entered da crypt!" there was bloody goffik wallpaper everywhere with black enoby floors and black ebony ceiling. it was da most coolest gothic place ever. there was also lots of money everywhere because someone buried their money here. we were going to be rich!!! there was also new goffik furniture and everything so we could live in da crypt which was cool and goffik.
"cool" said Delphine Donkey "yes i know" I and Peppa said replying. it was really cool and depressing. i wanted to go to hot toppik to shop for new gothic outfits and with the money we found in Peppa's crypt. therefore we did.
when we got back home to Peppa's crpyt, we saw a tragedy unfold in front of our own eyes. there was a dark mysterious cloaked figure in front of teh crypt. it was........................................ madame gazelle!
"oh my satan!" i yelled angrily.
Chapter 8 - lithium
(AN. ok guys i am back from mah break! now i can make more goffik stories just in time for halloween)
madam gazelle looked at me in teh crypt. i did too.
"oh my god what the effing hell!" i shouted (no swearing in cartoonse!) "how did you manage to be brought back 2 life???!?" i axed.
mwahaha i am not telling you madame gazelle shouted! then, out of a suddenly, someone appeared running inside with a gottik cuckoo clock! it was.......................................................................................george pig! then what he did next was even more shocking. he smashed the cuckoo clock over madame gazell's head! oh no said screamed madama gazella! blood poured out of her head like a fountain. "so long madam gazelle" said I and peppa. i felt like going shopping again so i did but this time i took all of my friends and even some PREPS (ugh) to convert them to gothicism satanicataclysm. they soon saw that gothicness is the true way! well most of them anyway.
we then went to a concert by incandescence (AN if u dont know who that is then FOFF!!) and amy ee was the best singerer ever, she was wearing a ,long ripped black dress with lots of red stuff coming out and fishnets and had her hair in a messy bun kind of like amy lee in the musik video for "gong under".
2lithium don't lock me up inside lithium don't wanna forget how it feels without lithium" sang amy lee. she was a good singere but i was not jealous because i could listen to her all day! next we went back home but not before amy lee ended her concert with the words................. "bring me 2 life"
(AN that was a good ending wasnt it! stay tuned for more goffik chapters!)