Not to be confused with Aunty Dottie Pig.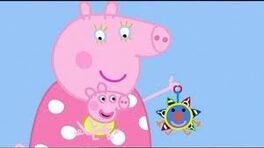 Aunty Pig (birth name Cheryl Pig) is Peppa and George's aunt and wife of Uncle Pig, and mother of Chloe Pig and Alexander Pig.
Looks
She wears a pink polka dotted dress. Her first appearance was on the episode "My Cousin Chloe".
Relatives
Trivia
In Finlaydoespotatoes's fanon, she spits everywhere.